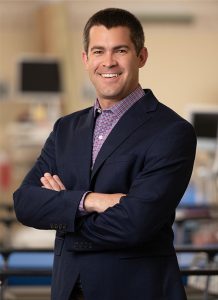 Dr. Christopher M. Spearman, M.D. joins Scott & Christie Eyecare Associates in August, 2019. He grew up in Marshall Township, PA and attended Penn State University, where he received his degree in Biochemistry and Molecular Biology.
Dr. Spearman received his medical degree from Sidney Kimmel Medical College of Thomas Jefferson University and completed his internship at Lankenau Medical Center. He completed his ophthalmology residency at the University of Wisconsin. Dr. Spearman specializes in the diagnosis and treatment of eye conditions including cataract, glaucoma, macular degeneration, diabetic eye disease, and dry eye disease. For patients undergoing cataract surgery, he offers laser assisted cataract surgery, multifocal lens technology, astigmatism correction, and simultaneous treatment of glaucoma utilizing minimally invasive glaucoma surgery.
Dr. Spearman is a member of the American Academy of Ophthalmology (AAO), American Society of Cataract and Refractive Surgery (ASCRS), and Pittsburgh Ophthalmology Society. He enjoys spending time with his wife, Chrissy, children – Emily, Alex and Connor, and his dog, Zoey. His hobbies include snowboarding, SCUBA diving, running, and cooking.