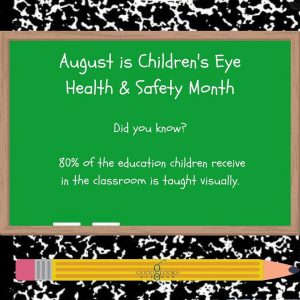 It's Children's Eye Health and Safety Month! Kids are headed back to school this week and it's important to know the warning signs if your child is experiencing a vision problem. This includes: frequently rubbing eyes, squinting, wandering eyes, disinterest in reading, tilting and turning head to look at objects. Some common conditions that can affect a child's vision are Amblyopia, Strabismus, refractive errors and color deficiency. Early detection is key. Furthermore, make sure your child wears proper eye protection when playing sports. If your child experiences an eye injury or you would like to schedule an appointment, please call us at:
Cranberry Township: 724-772-9090
Fox Chapel: 412-782-0400
Don't forget to check out our awesome kids frames when you stop at the store too!