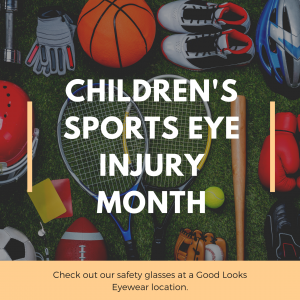 Do your kids play a high contact sport!? Do they have the right protection when it comes to their eye safety?
In a variety of high contact-sports, such as soccer, kids wear shin pads to protect themselves from possible injuries. In football they wear helmets, arm pads, and much more. But do they have the correct protection for their eyes? "In the United States, every 13 minutes an emergency room treats a sports-related eye injury, according to the American Academy of Ophthalmology." Children aged between 11 and 14 make a large percentage of all sports eye injury , roughly forty percent. All of these injuries are very preventable, but more serious injuries can lead to vision loss. Some injuries include fracture of the eye socket, swollen retinas, and scratched corneas. Prescription glasses or sunglasses do not provide adequate protection during high-contact sports. Protective sports eyewear is a must when it comes to your child's eye safety.
Good Looks Eyewear provides the best eye safety for your children! Stop by one of our stores, located in Cranberry and Fox Chapel, to browse our selection of safety glasses. These glasses will keep your kids eyes' protected and prevent any possible injuries.
Cranberry Location:
Good Looks Eyewear Cranberry
Cranberry Shoppes
20215 U.S. 19
Cranberry Township, PA 16066
Phone: (724) 772-9090
Fox Chapel Location:
Good Looks Eyewear Fox Chapel
Fox Chapel Plaza
1101 Freeport Road
Pittsburgh, PA 15238
Phone: (412) 782-1919