Good Looks Eyewear Welcomes MODO!
Good Looks Eyewear is welcoming the new line, MODO, to our frame boards at our Cranberry Township location! This exciting new line will consist of 30 new frames, for both men and women. The history of MODO began thirty years ago in New York City. This eyewear brand delivers on "overall lightness and lasting quality" and remains to hold that standard today. The style of this line reflects society's architectural elegance and also is influenced by their Italian heritage. This line also delivers on variety of eye-popping colors, having options for everyone! The newest collection to MODO is "paper-thin" inspired and features ultra-thin Beta-titanium. This gives MODO their world known name of being the lightest optical frames in the world.
Another amazing quality of this line is their Buy a Frame-Help a Child pledge. With this pledge, MODO is partnered with the Seva Foundation, a international no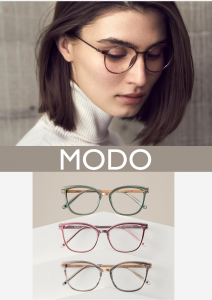 n-profit health organization. Together they have provided comprehensive eye care to over 1 million children in need. If this new line sounds appealing to you, like it has for many others, stop into our Cranberry store today!
Cranberry Township Location:
Good Looks Eyewear Cranberry
Cranberry Shoppes
20215 U.S. 19
Cranberry Township, PA 16066
Phone: (724) 772-9090
Fox Chapel Location:
Good Looks Eyewear Fox Chapel
Fox Chapel Plaza
1101 Freeport Road
Pittsburgh, PA 15238
Phone: (412) 782-1919