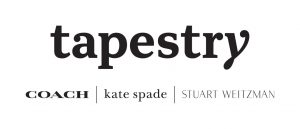 Last year, Coach shocked the fashion world with the purchase of the designer handbag company Kate Spade. This year Coach is shocking us again. Not with a business acquisition however, but with a name change. That's right, the infamous purse company has decided to take their brand name in a new direction and be renamed themselves Tapestry.
Some people may not fully understand what the name change means, and what the means for their favorite handbag brand. For the customers who love the iconic "Coach" name with their iconic log and designs, do not fear, all bags will still be under the name Coach. Think of Tapestry as the parent company. Before the name change, the corporate name for Coach was simply "Coach". So Coach was the owner of the fashion brands Coach, Kate Spade, and Stuart Weitzman. So now Tapestry is the owner of these brands, including the fashion brand Coach. So all of the fashion brands that Tapestry owns will keep their own respective names on their products in the future.
So not to fear, all Coach and Kate Spade products will continue to be developed with the iconic brand names. This was a corporate decision to reflect the views that CEO Victor Luis has for the company moving forward.
This means Good Looks Eyewear will continue to sell women's Coach and Kate Spade frames. Stop in today to get you Kate Spade or Coach frames today.