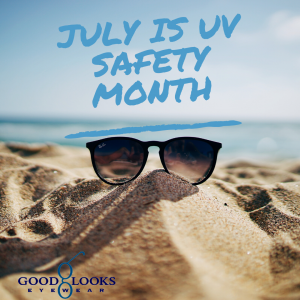 Are Your Sunglasses 100% UV Protected?
Summer is FINALLY here! Which means that our exposure to the sun increases significantly due to our fun family trips to the beach, long days in the pool, and outdoor summer festivities.  While we protect our skin from the sun with enormous amounts of SPF sunscreen, we sometimes forget that we need to protect our eyes from the sun as well. Studies have shown that exposure to bright, intense sunlight may increase the risk of developing cataracts and cause other sight reducing conditions. One hundred percent UV blocking sunglasses are the best way to protect your eyes from the sun's harmful UV rays and lowering your risk for potential eye health diseases. Make sure while you are looking for protective sunglasses that they are 100% UV protected because there are many different levels of sun protection. You may not even know that your current sunglasses are not 100% UV protected!
Stop by one of our Good Looks Eyewear locations, in Cranberry or Fox Chapel, and browse through our selection of fashionable, high quality UV blocking sunglasses. All our sunglasses have 100% UV protection and our wonderful opticians would gladly help you choose a style that best suits you!
No appointment needed!
Cranberry Location:
Good Looks Eyewear Cranberry
Cranberry Shoppes
20215 U.S. 19
Cranberry Township, PA 16066
Phone: (724) 772-9090
Fox Chapel Location:
Good Looks Eyewear Fox Chapel
Fox Chapel Plaza
1101 Freeport Road
Pittsburgh, PA 15238
Phone: (412) 782-1919