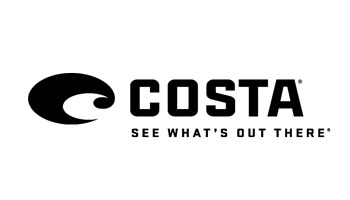 With almost 40 years of experience providing some of the word's best polarized sunglasses, Costa Del Mar is the first dedicated sunglass manufacturer to develop color enhancing lens technology.
Beyond Polarized
Most traditional Polarized lenses work by only blocking reflective light, but Costa did more. Their patented 580® lenses go the distance by blocking the ideal amount of harsh yellow light and potentially harmful blue light, while simultaneously enriching beneficial reds, blues and greens. This all adds up to less haze, less blur, and improved clarity and contrast. And if those innovations weren't enough, they offer both a lightweight, impact resistant polycarbonate lens (580P), and a more traditional glass lens (580G). So no matter which Costa lens type you choose, your worldview is about to go hi-def.
Looking After What They Love
At Costa, they love the water and they love everything living in it. From their Indifly Foundation to their Kick Plastic® initiative, they devote a substantial amount of time, resources, and efforts, to conservation, raising awareness, protecting fisheries, and enriching water-based communities. Visit their Protect page for more information on all of the things that Costa does to help.
Collections:
Costa Sport Performance Sunglasses
Packed with fine-tuned features, Costa's Sport Performance Sunglasses are designed to handle your next adventure – on or off the water. Costa's wide range of Sport Performance Sunglasses all feature UVA/UVB blocking polarized lenses allowing you to see safely and comfortably in the harshest lighting conditions.
Costa Beach Lifestyle Sunglasses
Whether it be fishing, glassing targets, or just walking down Main Street, Costa's Beach Lifestyle Sunglasses offer designer styles made from durable and comfortable materials. All Costa Beach Lifestyle sunglasses feature polarized lenses and the frames are crafted using a wide array material ranging from the company's bio-resin to titanium!